divorce litigation lawyers in california
Divorce is difficult no matter your circumstances. The process of achieving total legal separation from a spouse requires a lot of time, attention, and paperwork. Many people label this as the most stressful time of their lives.
Navigating a divorce can be difficult and emotional, even if the marriage is ending on amicable terms. Legally separating yourself from a spouse takes a great deal of time, effort, attention, and paperwork. The final goal in a divorce should be to ensure that both parties receive the support and assets they are entitled to.
Even under the best circumstances, this is not always an easy goal to achieve. Many factors can contribute to the difficulty of a divorce, including high-value assets, income disparities, and custody agreements. The divorce process may be further complicated if one or both spouses are medical professionals. There are things, such as spousal support and child custody, that may need to be given special attention during a divorce involving one or more medical professionals. An Orange County divorce attorney in California can skillfully help you navigate the dissolution of your marriage.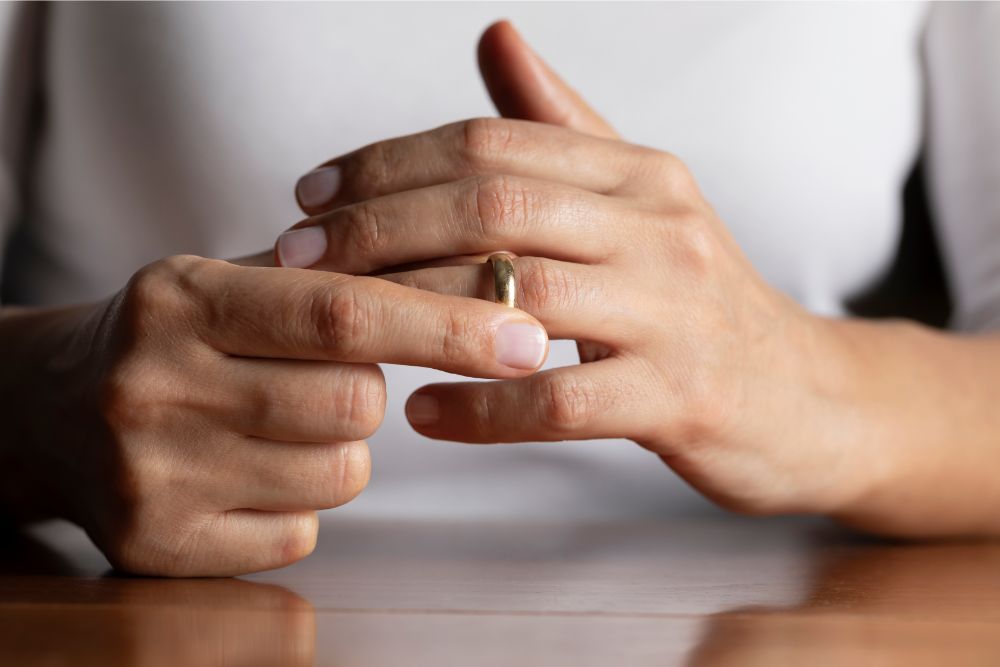 Is California a No-Fault Divorce State?
The state of California allows for no-fault divorces. Pursuing a no-fault divorce means that there does not have to be proof of wrongdoing provided for the divorce to be finalized. These divorce cases also do not require agreement from both parties. If one spouse is unhappy in their marriage for any reason, they can file for divorce and end their marriage.
Most no-fault divorces in the state of California cite irreconcilable differences as the reason for the divorce. This means that some significant misunderstanding or disagreement arose, and the marriage has been broken beyond repair. Irreconcilable differences may include infidelity, different goals for a family, or even a disagreement about beliefs and values. Whatever the reason for the divorce, once the request is filed, there are very few things that can stop the divorce from going through.
How Does Divorce Work in California?
When a marriage ends in divorce, the process can be time-consuming. The former partners must make several significant decisions about how they wish to move forward. Making these decisions can be difficult and emotional, particularly if things like businesses or children are involved. Working with an experienced family law attorney can help you understand the necessary steps in divorce proceedings and make the process easier to handle. To finalize a divorce in the state of California, four primary steps must be completed:
Start divorce proceedings. Since California is a no-fault divorce state, only one spouse must file paperwork to begin the process of the divorce. Once the papers have been filed, the other spouse will have an opportunity to file their response with the courts.
Share necessary financial information. This step is referred to as disclosure, and it requires the spouse who filed for divorce to share all their financial information with the other spouse. The responding spouse will only be required to share financial information if they officially filed a response to the initial paperwork or if they want approval from the court for a divorce agreement. The goal of this step is to make the process of reaching a divorce agreement easier for all involved parties.
Make decisions about property division, child custody, and support. The third step will likely be the most difficult and time-consuming, particularly if you are a medical professional. During this process, you will determine how assets are divided, decide how much spousal support will be paid, and develop a plan and a schedule for child support and custody. If the spouses are unable to reach an agreement on their own, they can ask for a decision from the court. Asking the court to decide will require a trial that concludes with a ruling from the judge.
Finalize the divorce. Once you have completed the first three steps, you will then be able to file a request to finalize the divorce. This requires that all potential problems, such as support and custody, are settled and for both parties to have a divorce agreement.
The general process of a divorce in California is fairly straightforward, but it is not a quick process because California has a mandatory six-month waiting period. If both parties can easily agree on decisions being made, then the divorce may be finalized after the six-month waiting period has ended. For cases that require more attention, like high-asset divorces or situations where spouses are unable to agree, the process may take much longer. Regardless of the time frame, any divorce in California will have to follow each of the above steps to be finalized.
Reasons to Pursue an Orange County Divorce
Since California is a no-fault divorce state, there is no legal requirement to list a specific reason for the divorce. If you are unhappy in your marriage, then you have the right to file the proper paperwork to dissolve it. Despite no legal requirement, it is important that you understand for yourself why you are choosing to end your marriage. Some common reasons to file for divorce are:
Domestic Abuse. If you are experiencing any type of abuse, then you should remove yourself from that situation. This abuse may be physical, mental, emotional, financial, or psychological, among others. Regardless of the specifics, you do not deserve to be abused and have the right to dissolve an abusive marriage.
Disagreement on values. Spouses do not necessarily need to agree on every small idea and opinion they have, but they must share similar core values. If you recognize that you and your spouse have opposing opinions about your core beliefs, and it is causing tension in the relationship, you may be better served with a different partner.
Infidelity. When a spouse is unfaithful, it can be heartbreaking and may destroy any trust in the relationship. Some couples can recover from infidelity and rebuild their marriage, but that is not always the case. If your spouse is unfaithful, you are well within your rights to file for divorce.
Substance abuse. If a partner who struggles with a substance abuse disorder does not want to pursue help and get healthy, it can cause significant issues in their relationships. As a result, if one or both partners struggle with addiction, it can be difficult to maintain a healthy marriage. Choosing to pursue a divorce is understandable in these situations.
Financial stress. Managing your finances to ensure that all your family's needs are met is not an easy task. This can be made much more difficult if a spouse loses their job, has significant debt, or struggles with gambling or overspending. If you cannot maintain your lifestyle due to financial problems caused by your spouse, you may consider ending your marriage.
High Asset Divorces for Medical Professionals
Finalizing a divorce is always daunting, but the process can be much more difficult when assets of significant value are involved. One of the steps in finalizing a divorce is determining the value of a couple's property or assets and how those assets should be divided. California defines property as anything that has value, can be bought, or can be sold. This may include homes, cars, collectible items, clothing, and more.
The average annual salary for a physician in the state of California falls around $215,000, and it may be much higher if they are a specialist. If one or both spouses are medical professionals, their high salary will likely allow them to accumulate more valuable assets. The high salary of a medical professional, and the impact it might have on the couple's property, need to be given special attention in a divorce involving medical professionals.
Division of Assets for Medical Professionals During a Divorce
The division of assets is an important step in finalizing a divorce in the state of California. Several key factors must be taken into consideration when the divorce agreement is being crafted. This process may take a longer amount of time in divorces involving medical professionals because of the higher value of their assets.
To determine how assets will be divided in Orange County, California, the property is sorted into two distinct categories. Community property is anything that you accrued during the marriage. This may be a property you bought, such as homes or vehicles, but it can also be debts that were taken on during the marriage. Separate property, however, is anything that an individual spouse owned or purchased before the marriage or following the legal separation. Separate property also applies to inheritance or gifts given to an individual by family or loved ones. Once the value of all property has been determined, there will be a decision made to ensure that all community property is divided equally between spouses.
Protecting a Private Medical Practice During a Divorce
One of the biggest assets that may be considered during a medical professional's divorce is a private practice. If one spouse opened, developed, and grew their own private medical practice during their marriage, then that practice will likely be considered community property. This means that the spouse who is not a medical professional or who did not start the private practice may be entitled to a certain share of the business. This division could have a significant impact on the financial stability of both the individual doctor and the private medical practice itself. In these circumstances, the medical professional who started the practice must have plans in place to protect themself and their business.
In many divorces involving high-value assets such as a business, in this case, a medical practice, an outside professional will be brought in to assess the value of the practice and how it should be divided. This appraisal will consider several things before they hand down their final decision. The impact that the non-owning spouse had on the business is considered, as well as whether the non-owning spouse would be able to continue the services provided by the practice if the owner loses the practice. If the spouse who owns the practice has a significant amount of experience and expertise, that may work in their favor as the practice is being divided. Once the practice has been evaluated and a value is determined, the spouse who owns the practice may offer the other additional assets equal to the value of the practice as a way to keep it for themself.
Medical Professional Divorce and Spousal Support
It is not uncommon for the spouse of a medical professional to stay at home full-time because of the higher salary of their partner. This means that the spouse who primarily stays home is used to a certain lifestyle that they are entitled to maintain following their divorce. If there is a significant income disparity during a divorce involving a medical professional, the higher-earning spouse may be required to pay a large amount of spousal support. Working with an experienced California divorce attorney can help to ensure that spousal support payments are fair and manageable.
Medical Professional Divorce and Child Custody
Determining the amount of spousal support required following a medical professional's divorce can be difficult due to unequal income between spouses. While that is frustrating, finalizing child custody agreements can be even more challenging due to scheduling and stress. Medical professionals work demanding jobs, and they may be required to work unusual hours, which may make supporting a child difficult on their own. A California family law attorney can work to ensure that all child custody agreements are fair and in the best interest of the child or children involved.
California Family Law Attorneys to Assist with Medical Professional Divorce
Navigating a divorce is difficult, even under the best circumstances. It can feel nearly impossible to understand the intricacies of divorce proceedings, including paperwork and what information is necessary to share. Partnering with an experienced family law attorney can make a significant difference.
An experienced, knowledgeable Orange County divorce attorney understands how important this process is, and they can help by guiding you through it. The team at the Law Offices of Lisa R. McCall can walk with you throughout the entire divorce. With over two decades of combined experience helping families with their divorce proceedings, our team can provide you with invaluable knowledge, resources, and peace of mind as you work to finalize your divorce. Contact us today to get started.