Orange County Divorce Business Valuations Lawyer
Divorce is difficult no matter your circumstances. The process of achieving total legal separation from a spouse requires a lot of time, attention, and paperwork. Many people label this as the most stressful time of their lives.
Divorce is difficult, no matter what your situation may be. However, when you own a business with your spouse, property division can be especially complicated. For spouses who share a business in addition to their personal and family life, that business will have to act as an asset. Without the proper representation, this can put the future of your company in danger.
The business valuation process is key to determining your business's value and properly splitting it as an asset. If you are facing a divorce and own a business, you need an Orange County family law attorney who has experience in business valuation and divorce involving shared business interests. Fortunately, our team at the Law Offices of Lisa R. McCall has extensive experience in this area and is ready to help you.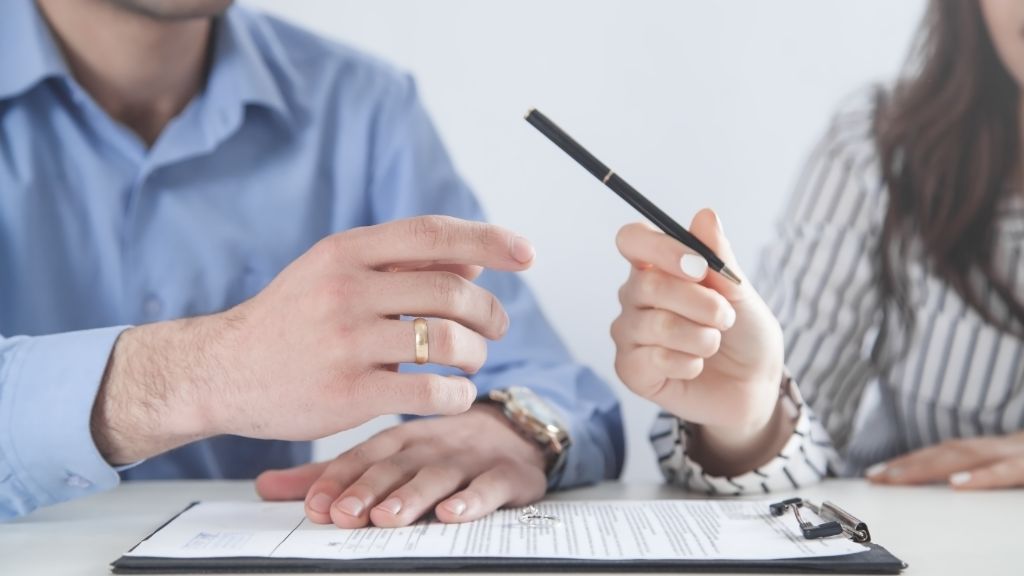 The Law Offices of Lisa R. McCall: Your Orange County Family Law and Business Valuation Attorneys
With over two decades of combined experience, our team at the Law Offices of Lisa R. McCall online is in a unique position to represent you during your divorce. We specialize in both family law cases as well as business valuation, meaning that we have the ideal combination of skills to represent you during a divorce involving business interests. We know the particular stress that these situations present, and we are prepared to help you traverse the process as smoothly and painlessly as possible.
While we are always kind and welcoming to our clients, we fight ruthlessly in the courtroom. We care deeply about your rights as a spouse and business owner and will stop at nothing to ensure you have the support and settlement you deserve. No other firm in the area has the same outlook as we do, and we pride ourselves on leading the Orange County legal community in business valuation support.
If you are facing a divorce that involves a family business or shared company venture, you need someone who knows how to secure what you deserve. Let our attorneys act on your behalf.
What Is Business Valuation?
Though many business owners understand the concept of business valuation, it becomes much more threatening during divorce proceedings. It is important to understand the basics so that you can make empowered and educated decisions throughout your divorce in Orange County, CA.
Business valuation is the process by which the legal system determines how much your business is worth and how much of an investment you and your spouse have in the business. This is usually done with the help of a joint forensic accountant who has an intimate understanding of the financial aspects of a company.
This process must occur because your business is an asset. If you share the business with your spouse, it is a marital asset. According to the law, all marital assets must be split during a divorce to ensure that each spouse gets a fair portion of what they have earned. Because a business is a complicated organization, the valuation process determines how it should be split during a divorce.
Business valuation also takes an individual's personal investment into account. For example, if you and your spouse own a restaurant and you spend 60 hours per week running the restaurant while your spouse only spends 20 hours per week, the business valuation process may reveal that you are entitled to a larger portion than previously assumed. Both financial and sweat equity are considered in this process.
Why Do I Need an Attorney?
If you are going through a divorce of any kind, it is important to have an attorney on your side. Legal counsel can help you to traverse the divorce process and ensure that no one takes advantage of you. Because your new life hinges on your settlement and financial support, it is best to have someone who can argue for your rights.
This is especially true if you own a business. It is imperative that the court understands your stake in the company and the effort you have put into the business. It is also important that you receive a fair portion of your company, into which you have put hours of hard work and invested your money.
How Is the Value of a Business Calculated for a Divorce?
Usually, the appraiser uses the income approach to value a business. In this approach, the professional looks at the business's assets and current value, as well as how much it is expected to make in the future. This is not a guessing game but rather a precise financial calculation that relies on real-life facts and figures to determine an amount. This helps to ensure that the findings are accurate. If your appraiser aims to make guesses or estimates, your attorney can ensure that your rights are not violated.
Splitting the Business Value
When you have to split your business in a divorce, it is easy to be confused about how the process works. Just because you are entitled to a portion of the business does not make the path forward clear. You still have options once the business valuation is complete.
In some cases, you may be able to sell the business and split the profit. This is similar to how many couples share the value of a home that they have purchased together. If your business can find a buyer and you both wish to terminate your involvement with the business, splitting the profit is the best course of action.
Alternatively, one spouse may wish to continue their role in the business while the other wishes to step away. In this situation, the spouse who intends to stay in the business will have to buy the shares of the other spouse in order to retain full control. They may then keep these shares for themselves or sell them to a different investor. In either case, the spouse who wants to terminate their relationship with the company may sell their shares to their spouse.
If you both wish to continue to run or own the business and neither of you wishes to sell your shares, you will have to figure out a way to run your business amicably. You will still both own the predetermined portion of the business and remain part of the company. If in the future, one person wants to sell, they will already know their portion and how much they are entitled to put on the market.
What Documents Are Needed for a Business Valuation?
For the joint forensic accountant to properly value your business, you will need to provide financial documents. These documents help the accountant to make an accurate determination of value rather than just a guess.
The accountant will tell you which specific documents they need. However, in most cases, they ask for:
Tax returns
List of intellectual capital
Financial account statements
Business plans
Business organizational documents
Projections and forecasts
Discretionary Earnings
If your company has expensive equipment or special facilities, they may need photos of these items to help appraise their value as part of the company. If you have a separate facility, your rent or mortgage payments, as well as the current property value, will be necessary.
In some cases, a company faces legal issues when the appraisal happens. If this is true, you need to alert the accountant so that they can take the issue and projected outcome into account.
The Cost of Valuations
It is important to note that having a business valuation will be an expense. Many companies pay between $10,000 and $20,000 for the valuation itself, aside from other legal fees and necessary expenses associated with splitting the business. However, despite the cost, business valuation is essential if you have owned a business with your spouse and you are divorcing.
Having an attorney present is extremely helpful to ensure that the valuation process is accurate and that you are not taken advantage of. We can help you to determine which documents to share as well as offer advice throughout the valuation process. In some cases, having an attorney can help the valuation process to go more quickly, which saves you time and money on valuation.
Contact The Law Offices of Lisa R. McCall
For many years, our team has been helping couples to traverse the intimidating and confusing terrain of divorce. We understand the toll that divorce proceedings can take on your mental health, and we aim to provide legal counsel that reduces your stress and anxiety about the process.
When it comes to business valuations during the divorce process, no area law firm is more qualified or prepared to help you. Our wide range of experience has given us the precise qualifications to help with the process and protect your interests. Though the business division process is complicated, we can help to simplify it for you and ensure that you are doing everything you can to make it as smooth and easy as possible.
For more information about business valuation or our role in your divorce proceedings, contact The Law Offices of Lisa R. McCall online today.