divorce litigation lawyers in Huntington Beach
Divorce is often a complex process. Aside from the emotional turmoil and stress a divorce causes, there are multiple issues that need to be addressed. The equitable division of assets, the creation of a parenting plan for child custody schedules, child support calculations and spousal support calculations are just some of the topics you will need to address in the process of a divorce. Some couples can navigate the emotionally and legally challenging aspects of a divorce through settlement, while others must resort to divorce litigation to achieve final resolution of what are often complex and challenging legal issues.  
The process of filing for and finalizing a divorce can be difficult, even if your relationship with your former partner is amicable. Paperwork must be completed and filed properly for the legal process to be completed and for the divorce to be finalized. The process of ending a marriage is emotional and overwhelming, and the additional stress of navigating the legal system can make it more difficult. The guidance of an accomplished Huntington Beach divorce attorney can give you peace of mind throughout the process. The team at the Law Offices of Lisa R. McCall will walk with you throughout your divorce and fight to ensure an equitable outcome.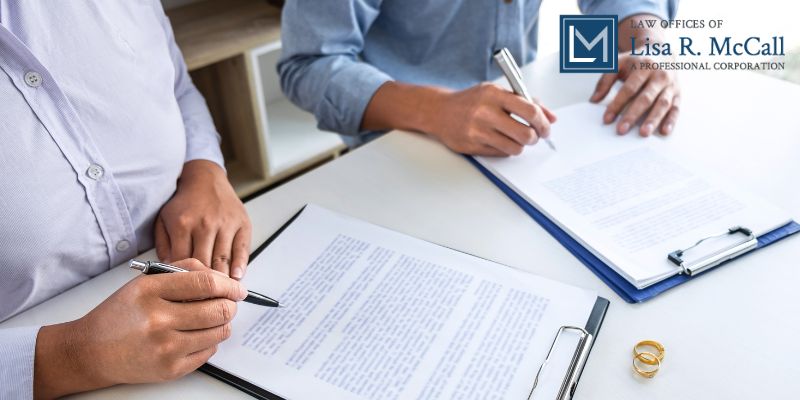 California Grounds for Divorce
The state of California is a No-Fault Divorce state. No proof of misconduct is required to file the initial paperwork to end a marriage. In fact, both spouses are not even required to agree that they want the marriage to end in order for the filing to be completed. The state of California recognizes two legally valid reasons for a divorce filing in Huntington Beach, often referred to as grounds for divorce. These grounds are Irreconcilable Differences and Permanent Incapacity.
An individual will file for divorce using the grounds of Irreconcilable Differences if there has been a breakdown in the marriage relationship that cannot be repaired. An individual filing for divorce under the grounds of irreconcilable differences is not required to provide specific details of the relationship breakdown or any proof of wrongdoing on the other spouse's part. One spouse has to be convinced that the relationship is entirely beyond the hope of reconciliation, so they choose instead to terminate the marriage.
The second reason for divorce that is accepted in California, Permanent Incapacity, is a rare occurrence. An individual who files for divorce using the grounds of Permanent Incapacity is making the claim that their spouse lacks the mental or legal capacity for major decision-making. This is the grounds for divorce that requires proof to support the claim, most often with medical documentation to back up the claims of incapacitation.
Regardless of the grounds used in the filing, both spouses do not have to agree that the marriage relationship should end. One spouse disagreeing, however, can make the divorce process much more difficult. If there is any disagreement or discontent from the other spouse, then they may seek a contested divorce.
Types of Divorce: Contested and Uncontested
An uncontested divorce is when both spouses agree from the beginning on every aspect of the divorce. No major conflicts surrounding child support, spousal support, child custody, or any other topic mean that the divorce does not have to be decided by a judge. The process of an uncontested divorce is often more cost-effective and is an overall simpler process. An uncontested divorce saves both parties a significant amount of money, takes less time overall, and is much simpler, but it, unfortunately, is not an option for every divorce.
In the event of conflicts or the inability to reach an agreement, a divorce will be considered contested. Contested divorces must be overseen and finally decided by a judge. This will proceed as a trial, so both parties will have an opportunity to gather all necessary information and evidence, gather witnesses, and present their cases to the courts. When the full process has been completed, the presiding judge will decide on all of the major disagreements based on the evidence.
Mediation
Some divorces are able to be finalized without any outside assistance, but in many circumstances, the partners need guidance. In those cases, mediation can be beneficial. Meditation involves a neutral third party meeting with both spouses to discuss their needs, requirements, and areas of compromise.
Mediation may be particularly effective for couples who have significant decisions to make regarding spousal support, child custody agreements, and child support. The neutral third party is trained to assess the needs and requests of each party and then present several options that will meet the needs of everyone most equitably.
This process can be beneficial for partners who want to ensure that the divorce process remains civil. Mediation helps both parties approach the divorce proceedings calmly and provides everyone an opportunity to clearly and effectively share what they need. It is a helpful way to ensure that the final outcome is equitable. The guidance of a Huntington Beach divorce attorney can help make the divorce and mediation process easier to manage.
The Orange County, California Divorce Process
Each divorce case is different. Some are simple and finalized relatively quickly, while others involve a significant amount of conflict and may take months or over a year to finalize. The specific details of each divorce case will be different, but the process of finalizing any divorce in California will follow four primary steps.
Filing for Divorce – The first step in every divorce process is filing the paperwork to initialize the dissolving of the marriage. One spouse must file the proper paperwork to indicate that they want the marriage to end. The other spouse must also be notified of the filing once the paperwork has been submitted and accepted.
Sharing Necessary Financial Information – Specific financial information must be shared once the initial paperwork has been filed and the process has begun. This may include any income sources and major debts. The spouse who filed for divorce must share this information, but the other spouse is only required to share if they are actively participating in the divorce proceedings.
Making All Significant Decisions – Finalizing all major decisions during a divorce may be the most difficult step, particularly if the divorce is contested. This process is harder during a contested divorce because everything must be shared with the courts and decided on by a judge. There may be some challenges in an uncontested divorce, but the overall decision-making will likely be easier because the spouses are more agreeable.
Finalizing the Divorce – This final step will be completed when all major decisions have been made and the couple has completed the mandatory waiting period. Once those requirements have been met, the couple must file the correct paperwork to finalize the divorce. The specific circumstances of the divorce will determine what paperwork must be filed. Once all necessary paperwork has been filed and processed, the couple will no longer be in a legally recognized marriage.
While the process of finalizing a divorce in California will always be the same, each case will likely face different challenges. Contested divorces and divorce proceedings with a great deal of conflict will take more time, resources, and attention. Working with an accomplished Huntington Beach divorce attorney can provide peace of mind and resources but may be costly.
Divorce Costs in California
Each divorce case will have a different cost that is dependent on whether the divorce is contested or uncontested, what services will have to be employed by a divorce attorney, and the overall circumstances of the divorce. Filing the proper paperwork can cost several hundred dollars, depending on the county the paperwork is filed in. How much time a Huntington Beach divorce attorney must commit to your case will also impact the overall cost of your divorce. Anyone who works with an accomplished divorce attorney to complete their divorce proceedings can expect to spend several thousand dollars over the course of their case.
How a Huntington Beach Divorce Attorney Can Help
Navigating the legal system to file for and finalize a divorce can feel overwhelming, especially for individuals who are not familiar with it. Having the proper support and guidance can make the divorce process more manageable. There are a few key ways that a Huntington Beach divorce attorney can help you during your divorce.
Education – An accomplished divorce attorney will have an extensive, continuing education. That may not necessarily mean that they attended the highest-ranked school but rather that they have dedicated significant time to staying abreast of any changes in laws and regulations. Their educational experience will ensure that they are able to assess the specifics of your case and suggest the most effective course of action.
Experience – It is important to work with a Huntington Beach divorce attorney with varied experience. This means that they have worked with a diverse array of clients and divorce proceedings. Varied experience means that they have seen the effective and ineffective approaches and know what is most effective. That experience will help them to analyze your case and determine the approach that will lead to a more equitable outcome in your divorce.
Guidance – The emotions and stresses that come along with finalizing a divorce can feel overwhelming. For people who are not accustomed to working in the legal system, following the correct process can seem nearly impossible. An experienced Huntington Beach divorce attorney can provide invaluable guidance, resources, and support to their clients.
Finalizing a divorce is a difficult and time-consuming process. It often involves high emotions and the potential for significant conflict. Understanding how the divorce process works, what options are available, and how to proceed most effectively can make it easier. An experienced divorce attorney in Orange County, CA can guide you through the entire Huntington Beach divorce process and fight to ensure an equitable outcome. Trust the team at the Law Offices of Lisa R. McCall for all your divorce needs.